| Sun | Mon | Tue | Wed | Thu | Fri | Sat |
| --- | --- | --- | --- | --- | --- | --- |
| 26 | 27 | 28 | 1 | 2 | 3 | 4 |
| 5 | 6 | 7 | 8 | 9 | 10 | 11 |
| 12 | 13 | 14 | 15 | 16 | 17 | 18 |
| 19 | 20 | 21 | 22 | 23 | 24 | 25 |
| 26 | 27 | 28 | 29 | 30 | 31 | 1 |
March 2023
April 2023
4-6-23 Teacher Appreciation Night
5:00 PM to 10:00 PM
Thu, Apr 6, 2023
TEACHER APPRECIATION NIGHT! [👏] [🍎] Calling all Educators this one is for you! Come enjoy half price glasses of wine [🍷] this Thursday [👩‍🏫] [👨‍🏫] . It's a small token of our appreciation for everything you do!
2023 Hippity Hop Sip and Shop
2:00 PM to 8:00 PM
Sat, Apr 8, 2023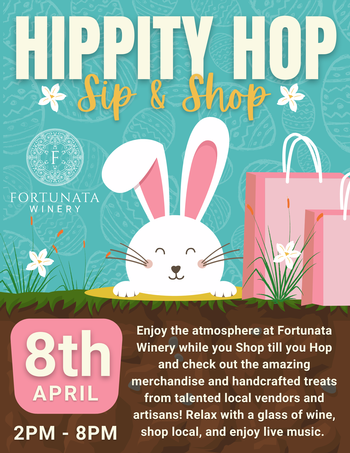 Vendors Sign up HERE
You know you want to
Sign Up For Our Newsletter
Keep up to date on the latest wine releases, events, and promotions!